A couple of years ago, author, artist, onetime film director, and all-round master of the macabre Clive Barker almost died. He didn't almost die in the sense that he nearly got run over by a truck or that he was unwell enough as to be "at death's door." No, Barker basically sprinted through death's door and settled down on the Grim Reaper's couch for what could easily have been a permanent stay after the Brit suffered a case of toxic shock as a result of dental work and fell into a coma.
As Barker explained during a series of tweets in February 2012, not long after the incident, "The dental work unloaded such a spillage of poisonous bacteria into my blood that my whole system crashed, putting me into a coma. I spent several days in intensive care, with a machine breathing for me. Later, my doctors said that they had not anticipated a happy ending until I started to fight, repeatedly pulling out the tubes that I was constantly gagging on. After a few days of nightmarish delusions I woke up to my life again, tired, 20 pounds lighter, but happy to be back from a very dark place. And here in the world I intend to stay. I've books to write, films to make, and paintings to paint. I seem to have come home with my sight clearer somehow, and my sense of purpose intensified."
More than two years on, Barker still sounds thrilled to be, well, alive. "I did almost die," says the 62-year-old over the phone from his house in Los Angeles. "It wasn't a great experience for anybody! Especially for those who were watching me. I think they were having a worse experience than I was."
These days, Barker has another reason to feel good. Scream Factory—the horror-centric subdivision of Shout! Factory—recently released a "director's cut" Blu-ray of Barker's Nightbreed, the 1990 film about freakish-looking but sympathetic creatures, which its creator believes was butchered by the movie's studio, Morgan Creek. For years, Barker believed the footage that had been cut from the film was lost for good. Then, recently, many of the literally discarded pieces of footage—or "trims"—were found in a storage facility in the Midwest. "Now, Clark, why the f--k we should find 500 boxes of trims [there]—it sounds like the end of Raiders of the Lost Ark," Barker says. "I have no knowledge of why that stuff was there, how it got there. All I know is the cinema gods must have loved us because it was all there."
Barker first made a splash on the horror scene with The Books of Blood, a six-volume series of short stories he published in the mid-'80s. He made a bigger impact with his directorial debut, 1987's Hellraiser. Adapted from Barker's novella, The Hellbound Heart, and made for just $1 million, the film introduced the world to Doug Bradley's pain-obsessed, iconic "cenobite" Pinhead and the puzzle box that summons him and his similarly unpleasant associates. Barker says Hellraiser turned out exactly the way he intended and left him unprepared for the bruising he experienced during the shooting and post-production of Nightbreed. Based on another of the author's novellas, Cabal, the film details the adventures of a murder suspect (played by future One Tree Hill actor Craig Sheffer) who discovers a subterranean hideout called Midian filled with monstrous creatures, including a sort-of man with a head shaped like a crescent moon, a shapely woman-animal capable of unleashing deadly quills, and Doug Bradley's Moses-like leader (if Moses had crazy slits in his face).
Barker has described his second film as "Star Wars for monsters" and confirms his dream was to do for fantastical beasts what George Lucas did for sci-fi. "Obviously Lucas had a huge love of old-fashioned science fiction," Barker says. "He said, 'I'm going to use all my knowledge, and all my love, and turn it into the best thing I possible can.' I was in Boston the first day Star Wars opened. I was in the first line for it. It was like, 'Whoa, look at this!' I felt that somebody could do the same with monster movies. People love monsters. There's a reason why Godzilla is still out there, why Dracula is still out there. Why not give the monster movie a chance to be reconceived and expanded and celebrated?"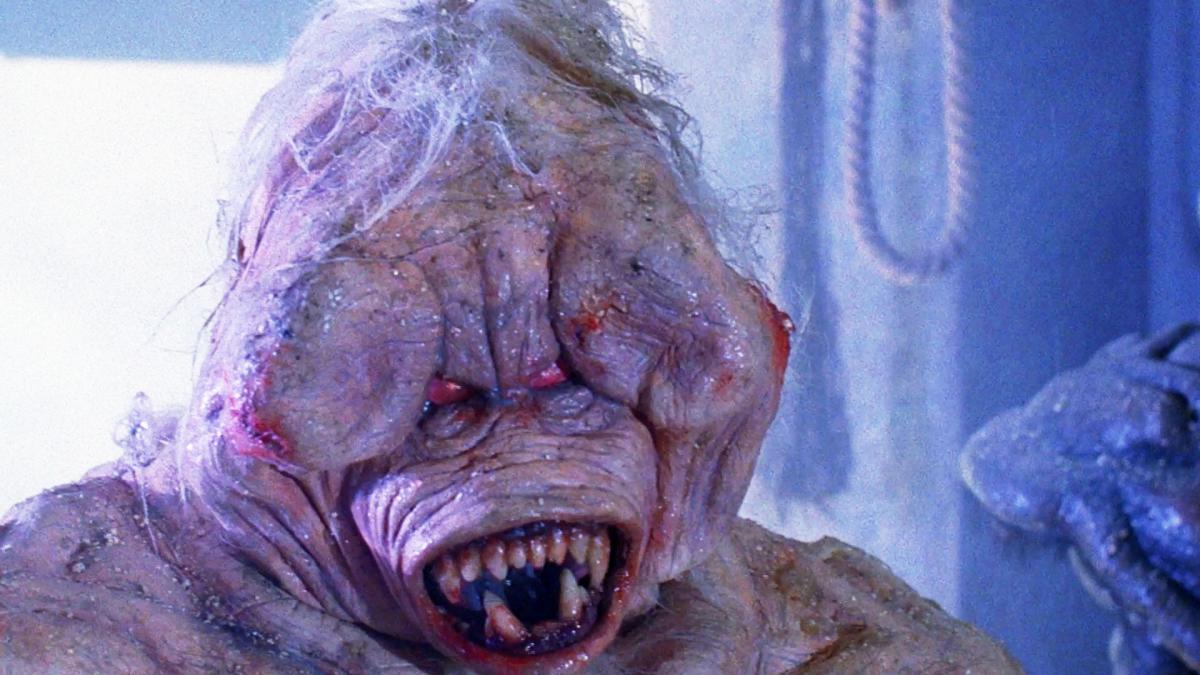 One of the "Berserker" creatures from Nightbreed Shout! Factory
Among the key elements of Barker's vision was that the film's exotic-looking creatures should be the heroes of the piece while the villain would, in a sense, be humanity, as represented by David Cronenberg's serial killer-psychiatrist, Dr. Decker. According to Barker, it became clear during the film's shoot at Britain's Pinewood Studios that this concept clashed with the view of Morgan Creek co-founder James G. Robinson. "Jim didn't like the movie I'd written, didn't like the movie I was shooting," Barker says. "Jim took me out to dinner and told me I needed to make the movie that he wanted to make. I said, 'I can't do that. I would prefer to leave this project and let you find somebody else to make the movie you want to make. But I guarantee you won't be able to find such a person.' He said, 'Not fair! You've got both my balls and I've only got one of yours!' I said, 'Well, Jim, that nicely describes our relationship. Let me make the movie and let's see how we come out at the end of it.'"
For his part, Robinson says he doesn't remember making the comment about the pair's respective testicles—"[It was] 25 years ago. [But] I don't recall using that expression with anyone else"—and paints a much less acrimonious picture of their relationship as a whole. "Listen, history is in the mind of the beholder," he says. "But I don't think we had a bad experience. We used to go out at night and have a few drinks. We spent quite a bit of time socially together. The bottom line here is that I had a responsibility to make something that would be commercially acceptable and hopefully successful. For its time, it was an unusual film. Sometimes—it's something that I do—sometimes if you say 'white,' I'll say 'black,' just to get all of whatever you may be thinking of it, and I the same. Clive needed a little help but he did a good job. So, to answer your question, I can't tell you specifically what I may have said but I can tell you one thing, we did collaborate. And at the end of the day, hey, we still talk!"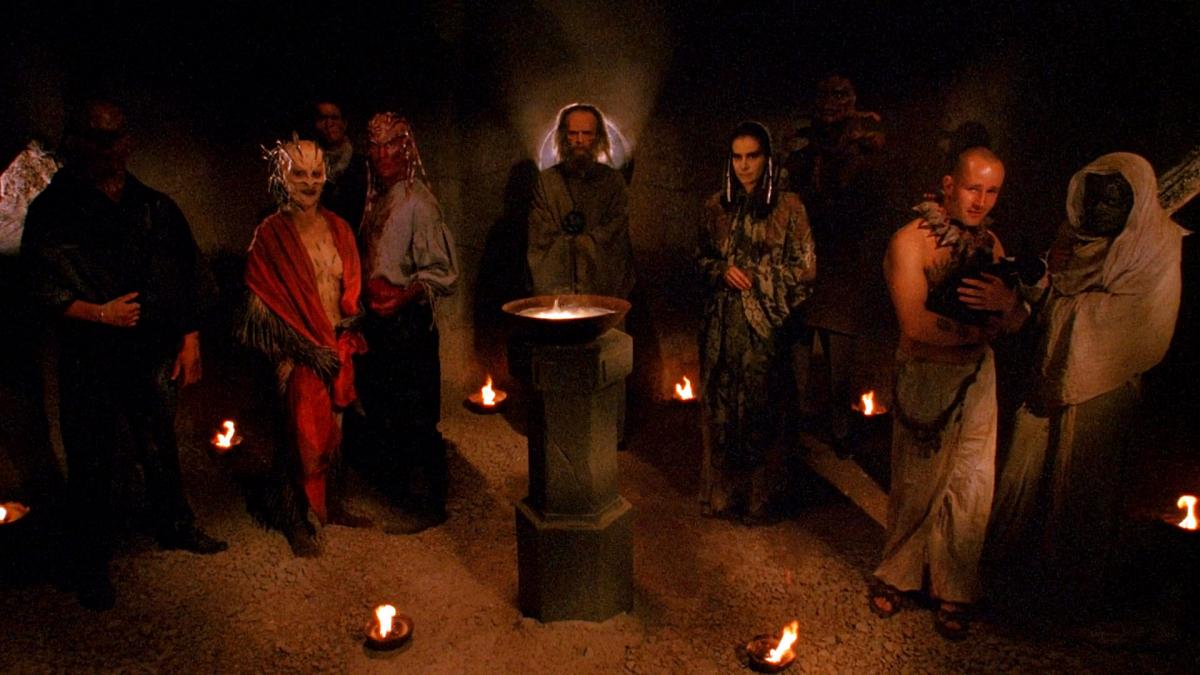 Some of the other inhabitants of Midian, including (center) Doug Bradley's Lylesberg Shout! Factory
Barker says his first cut, which was two and a half hours long, was met with little enthusiasm by studio executives. "The silence after it played was deafening," he says. "I was showing them what I thought was my best possible chance to convince them that my view on things was the right one. I showed it to a room of maybe 20 people. They just looked at it with incomprehension. And then the cries started: 'Why aren't the monsters scary?' 'They're not supposed to be scary!' 'Well, why aren't they supposed to be scary?' Because that's not the movie I made! I just thought, 'Oh, I am so f---ed.'"
Robinson, again, has a different take on events. "Let's put it this way, I don't think there was any lack of enthusiasm," he says. "But it's never been our M.O. to jump up and down and give a guy a lot of bulls---. We're always thinking about how to make it better." Robinson does admit that, to make the film better, he insisted it be changed. "Oh, I'm sure I did," he says. "I mean, I did have final cut and I did pay for it. Not only was it within my right [to change the film], but it was within my responsibility. Look, most writers are wedded to their book, their manuscript, their script, whatever. That's very normal. But, the movie's too long; people don't want to sit through it."
Barker's original cut of the film had been edited by Richard Marden, who had performed the same service for Barker on Hellraiser. But Marden quit when another editor, Mark Goldblatt, was brought in to oversee the Morgan Creek-approved cuts and add Barker-directed reshoot material. "It was a great sadness to me, because he'd cut Hellraiser for me and I thought he would be with me on all my shows," Barker says. "But he just couldn't deal with somebody else coming in and cutting the hell out of the picture that we'd sweated over. So, he went and—God bless him—Mark did the most delicate [editing] that he could possibly do, knowing that he was obviously hurting me badly by doing this. They kept saying to me, 'We don't like a movie in which the monsters are the good guys.' I said, 'Well, you shouldn't have funded the picture that I'm making. If you didn't want that movie, then I shouldn't have made the movie. Somebody else should have made the movie!"
To make matters worse—at least from Barker's perspective—Morgan Creek and distributors 20th Century Fox marketed the movie as a slasher film. One of the Nightbreed posters, for example, featured the terrified eyes of actress Anne Bobby, who played Sheffer's onscreen girlfriend, Lori. The tagline? "Lori thought she knew everything about her boyfriend…Lori was wrong!"
"And I happen to hate slasher movies," Barker says. "Nightbreed was a cri de coeur against slasher movies." Barker describes the process of promoting what he regarded as a fatally mangled version of his film as "Horrible! Horrible! Horrible! Horrible! Horrible! I think you can see in the interviews that I did at the time profound discomfort. I said in many of the interviews, 'This is not the movie I wanted to make.' At the same time, there were a lot of things in the movie that I loved. It did take me a year and a half to make. You can see the paradox: You want to support the picture; at the same time I can't support something that isn't truthfully mine."